All the Nitty Gritty related to flower delivery in Auckland!
Flowers on the Hilltop accepts no liability if incorrect or incomplete address details are given in your order . We can often do a redirect to ensure the flowers are delivered ,this may incur and extra delivery charge.
How much is it to send flowers in Auckland?*
Flower delivery charges vary throughout Auckland, use the dropdown menu in the shopping cart for the exact charge or check below for a guideline price.
What happens if no one is home?
Your flowers will be placed in the most secure area the courier can find out of the wind rain and sunshine. Flower deliveries do not require a signature receipt so will be left at the address given even if the recipient is not home.
When will my flowers be delivered?
Within our guideline delivery information *see below, we guarantee your flowers will be delivered on the day you specified if this is not achievable due to timing, or unforeseen circumstances we will be in touch with you by phone or email. Please note our guidelines for more rural delivery addresses.
Local West Auckland Flower deliveries
throughout the day on an approximate 4 hr delivery cycle * note Saturday delivery times may vary.
Greater Auckland
2 pick-ups per weekday one morning , one afternoon .
SATURDAY *
one pick-up for Auckland wide and local deliveries .courier collection is between 9.00am and 9.30 am on Saturday .
The delivery can be made late on Saturday afternoon even for
local delivery.
NO DELIVERY SERVICE FOR SUNDAYS*
TIME SPECIFIC DELIVERY
We DO NOT offer a TIME SPECIFIC delivery service throughout Auckland on our regular delivery charges, if you need this service Monday to Friday call our Flower store for a price.
09 8186556 or 0800 326687
How will I know the flowers have been delivered?
Unfortunately, we do not currently offer a confirmation service, however we are more than happy to ring our couriers to enquire about a delivery. Please just call on 09 8186556 or 0800 326687 or contact us by email.
Can I collect my order from your store?
Yes, most certainly we are open from 8.30 am to.4.45 pm Monday to Friday
Saturday 9.00 am to 3.45 pm
Sunday 10.00 to 3.45 pm
I don't know the exact address of the business I'm sending to?
The best thing to do is google the business name to verify the address, this is important for our couriers to be able to delivery precisely, also is it street frontage, upstairs, In a business unit, is the delivery time specific especially for someone leaving earlier? or delivery on a Friday.
How will my flower delivery be packaged ?
Your flowers will be delivered wet packed or in a Vox box (a cardboard box with a water filled plastic liner) if specified.
Always protected the best we can possibly do to ensure the flowers and gifts are the same as when they left our store.
In the unlikely event of a mishap occurring during delivery we will always rectify the situation with a replacement bouquet free of charge.
Residential Delivery Monday to Friday within the Auckland area order by 1.00 pm.
Residential Delivery Saturday order by 9.00 am
Business Delivery Monday to Thursday within the Auckland area order by 9.30 am.
Business Delivery Friday within the Auckland area order by 9.00 am
Our Local Area Weekdays We can accept orders for both business and local until approximately 2.00 pm
Outside of this guideline phone us on 09 8186556 we can often help.
AUCKLAND DELIVERY Two deliveries pick up 9.30-10.00 am and 1.00- 1.30.pm (note later pick up time MORE suitable for home delivery) CALL OUR STORE FOR MORE OPTIONS ON 09 8186556 Urgent courier service available at higher delivery prices.
LOCAL DELIVERY BUSINESS AND RESIDENTIAL Throughout the day , approximate cut of time 2.00 pm . *see Saturday details.
SATURDAY DELIVERY* order by 9.00 am, in some cases we can have the courier call back n the afternoon for a pick up .PLEASE RING for details

SUNDAY NO DELIVERY SERVICE AVAILABLE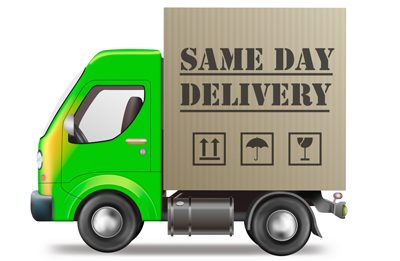 GUIDELINES FOR DELIVERY SERVICE AUCKLAND :
LOCAL AREA RESIDENTIAL/BUSINESS ADDRESS Delivery throughout the day until cut off approx 3.00 pm MONDAY TO THURSDAY , FRIDAY CUT OFF 2.00 PM * Please note Saturday delivery details are different .SUNDAY NO DELIVERY SERVICE AVIALABLE.
LOCAL AREAS are Glendene, Te Atatu, Te Atatu South,Te Atatu Peninsula, Sunnyvale, Glen Eden, Kelston, Henderson ,Henderson Heights.
FRIDAY DELIVERY order by 9.00 am on the day or preferably the day prior. We are aware there can be delays in transport throughout Auckland on Friday's so its best to order on the morning pickup.
We do have other courier options , ,THESE MAY BUT NOT ALWAYS INCUR AN EXTRA DELIVERY CHARGE Please ring us outside of these guidelines.
SHOP TEL NO'S : 09 8186556 for Auckland Customers or 0800 326 687 toll free within New Zealand as your delivery can very often be arranged.
*SATURDAY: One morning pickup at approximately 9.30 am for Auckland area and Local area deliveries, in some cases we can have the courier call back in the afternoon for local deliveries.
Please ring the shop on 09 8186556
*Delivery Pricing:
LOCAL $12.00
AUCKLAND METRO $15.00
AUCKAND RURAL/OUTER SUBURBS DEFUALT*$25.00
RURAL REMOTE Preferably (but not always necessary) order by 10 am previous day, Pick up 9.00 -9.30 am following day, ring us if the delivery is urgent sometimes we can arrange a special delivery for you. We will phone the courier for you to see what can be arranged outside of these guidelines.
*SOME OUTER SUBURBS MAY INCUR AN EXTRA DELIVERY CHARGE PLEASE SEE THE DROP DOWN MENU ON THE ORDERING SCREEN FOR MORE DETAILS ON YOUR AREA.
Auckland Outer/Rural Auckland Delivery -Surcharge – (please contact us on 09 8186556 or 0800 326 687 for a delivery price) Standard default pricing for this option is $25.00 some areas that are still considered Auckland Rural and Outers can incur charges above the default price it is best to give us a ring if you are unsure We may suggest using or organising for you a florist that is closer to the delivery area however, often this is not possible as there is not a florist available, we are happy to TRY TO make deliveries for you to more remote areas and will do our best to secure the best pricing option available.
The map below outlines the areas in yellow shading that fall within the Auckland area, some of these areas are up to 50 Kilometers from the store, they will incur extra delivery charges.
Even If the location for delivery falls within the shaded area it may be classed as Outer/Rural Auckland – please phone us on 09 8186556 or 0800 326 687 to discuss the delivery fees associated with outer/ rural delivery.
Auckland Outer/Rural Areas:
NORTH: Albany Rural, Arkles Bay, Army Bay, Dairy Flat, Gulf Harbour, Hatfields Beach, Manly, Orewa, Paremoremo, Red Beach, Silverdale, Stanmore Bay, Stillwater, Whangaparoa and Wainui.
EAST: Beachlands, Maraetai, Waiheke Island and Whitford.
SOUTH: Ardmore, Bombay, Brookby, Clevedon, Drury, Hunua, Karaka, Papakura Rural (Past Ponga Road), Pukekohe Township, Pokeno, Ramarama and Runciman.
WEST: Cornwallis, French Bay, Hellensville, Henderson Valley Rural, Huia, Langholm, Muriwai, Oratia, Parau, South Titirangi, Scenic Drive, Swanson Rural, Taupaki, Waiatarua, Waima, Waitakere, Wood Bay, Woodhill and Woodlands Park.
Many of these areas do have the delivery charge specified in the drop down box in the cart, if you don't see the area you are intending to deliver to , please call us for more information and availability.