Closest Florist to Waikumete Cemetery
Flowers on the Hilltop Glendene 250 yards North from the main cemetery gate on Gt North Rd.
The Waikumete Cemetery is situated on Great North Road Glen Eden, between Glenview and Awaroa Roads.
The Cemetery and Crematorium cover an area of 108 hectares and since 1908 has served as the main cemetery for the Auckland Region. It is the largest cemetery in New Zealand and one of the largest in the Southern Hemisphere .
Many people have family members or friends buried in the cemetery and are unable to visit their loved ones as often as they would like , they live in other areas of New Zealand or  can only make a personal visit when they return home on a visit from overseas.
Having owned the flower shop for over 14 years I am aware of the importance of flowers in acknowledging for family and friends their love and remembrance for the person who has passed away.
  If you would like flowers to be delivered to a grave site this can be arranged for you in two different ways.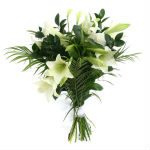 FREE DELIVERY
Free Delivery to the cemetery office .(Using this service council staff will place  the flowers on the grave site,) available Monday to Friday, excluding those days that fall on a public holiday.
PERSONAL DELIVER AND PHOTOGRAPH
Personal Delivery to the grave site by one of our staff members. We will take several pictures of the flowers at the grave site for you,  then email them to you. People who have used this service have been very appreciative and it has given them great comfort, available Monday to Saturday excluding those days that fall on a public holiday.Choose your flowers from any of those available on the website or call us on +64 9 8186556 during business hours to arrange your own choice of  flowers and delivery method. There is an extra charge for this delivery method.Both delivery options are available when completing your purchase at the checkout.
Please provide a name and any further identifying information re the plot number if you have this if not we will search at the office for the details and make your delivery for you if this is required.( please note for a first delivery we will probably need to visit  the office to find the location, unfortunately the office is not open on Saturdays or Sundays.)

Needing Flowers Contact us or call us 09 8186556  or 0800 326687 to discuss your needs .
 Remember we are the closest full service florist to Waikumete Cemetery